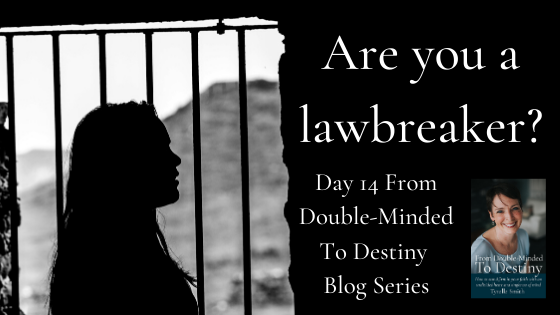 The Daniel Kolenda Dream
One night I had a dream I was sitting across from Daniel Kolenda, and world-renowned evangelist. His face was serious, and his eyes fiercely and firmly held mine until he knew he had my absolute and total attention and focus. As his eyes unflinchingly held mine, he authoritatively asked, "Are you a lawbreaker?" His piercing gaze and authority demanded a completely truthful response. I felt myself surrender internally to conviction. I was willing to die rather than lie or hide. I unflinchingly held his gaze in return and said, "Yes, I am a lawbreaker." Then I woke up.
I asked the Lord what this dream meant and puzzled for a few days. I knew that Daniel Kolenda was a man and minister of integrity, but I knew it was the Almighty I had just encountered. He took the form of someone who I would recognize as a person of great integrity and authority so that I might relate to Him as such within the encounter. I am very sensitive to a clean and clear conscience so lying is not something I am comfortable with. But a lawbreaker? This was not something I perceived in myself. I knew that this was a prophetic dream for the body at large.
A few more days after the dream, the Lord caused me to stumble on this verse:
Lord, we show our trust in you by obeying your laws

– Isaiah 26:8, NLT
And there it was in black and white.  The revelation I wish to leave you with is this: It takes trust to obey God, the Lawgiver.  It requires a ceasing from your own works and finagling to trust and obey His laws and believe that things will come out right and prosper in the end.  The surrender I experienced was a willingness to die rather than live in the discomfort of a lie.  God is beckoning you into a place where you will cease striving and simply trust and obey His righteous ways, look Him in the eye and begin to establish your life in truth.
In a real-world context, this means that we, as believers, do not need to cheat on our taxes because when we do what is right, God will provide. In fact, we can even tithe and offer, because we trust Him enough to obey Him and He will prosper us. It means we can tell the truth and not worry about the results; our life is in His hands. We do not need to fear man but obey God. He will prosper our way, be our defender and promoter. We do not need to satisfy our lusts of the flesh because He will give us the desires of our heart in a wholesome way and satisfy our souls. No finagling required. No mental gymnastics. Just trust and obey!
God, as a good Father, desires you to be steadfast in your faith and established. Your stability comes from building upon something sure, unchanging, and enduring. His word endures forever (1 Peter 1:25 NIV). You demonstrate your trust in God's unfailing character by following His instructions and ways outlined in His Word. Doing so will result in a lasting and solid foundation for Jesus said, "Heaven and earth may pass away, but My words will never pass away" (Matt. 24:35, NIV).
Through Isaiah, God describes how He will lay your foundation as you allow Him and His Word to be your teacher. It is not one of concrete, but of precious gems to be treasured and stones of antimony—far more beautiful than river rocks. Scripture says He will build upon that foundation with precious stones and gates of crystal. He longs for you to treasure the foundations of God—His Word—like precious jewels.
Sometimes, however, our desires are out of step with God's righteous ways and can pull our affection away from Him, creating that loyalty tug-of-war. Isaiah, like James likens this "back and forth" state to the instability of the sea being "storm tossed and afflicted." Isaiah also spoke a clear word from the Lord, that He will lay the foundation for His people that they may be established in righteousness:
O afflicted one, storm-tossed, and not comforted,
Behold, I will set your stones in antimony,
And your foundations I will lay in sapphires.
Moreover, I will make your battlements of rubies,
And your gates of crystal,
And your entire wall of precious stones.
All your sons will be taught of the Lord;
And the well-being of your sons will be great.
In righteousness, you will be established;
You will be far from oppression, for you will not fear;
And from terror, for it will not come near you.

— Isaiah 54:11–14, NASB
As you devote yourself completely to Jesus, with no "mistresses" vying for and dividing your heart with another desire, you will become steady and established through righteousness. No matter what storms arise that may contend for your heart's loyalty, or trials that hit that may cause you to doubt God's character, you will not be like a house that falls or a storm-tossed wave on the ocean of life's circumstances. You will be solidly established thru the trials, internally instilling a deep trust in God's character.
In Step with God's Heart
Because God has put an understanding of what is right and wrong inside each person's heart, the human heart will never be at peace in doing what is wrong (Heb. 8:10). That is why "storm-tossed and afflicted" is such a great word picture. Have you ever seen a poorly behaved child who was happy or peaceful? The child is often miserable, crying, whining in their wayward desires. They are angry, confused, and insecure. The moment a parent has had enough of the willful behavior (unrighteousnes and, in love, intervenes, the child settles down into peace. When the child is no longer misbehaving, his or her conscience becomes clear and after adapting to being good and doing right, the child becomes happy and full of joy.
No one is happy doing wrong, even a child. Bad behavior troubles a person's heart and conscience, and often hurts those around them.
I remember when one of our sons was developing a haughty attitude. We had tried without success to train him at home, but his attitude remained the same. I grounded him from an upcoming mission trip but changed my mind because I figured it would be good for a young person to serve in missions. But when he returned home, his bad attitude showed up at work and he was fired. He was stunned and so were we.
I asked the Lord what happened, and He said, "Tyrelle, you have always prayed 'All my children shall be taught by the Lord and great shall be the peace of my children. In righteousness, they shall be established. They shall be far from oppression for they shall not fear.'" I understood immediately.
God had provided the necessary teaching, that I hadn't, to ensure long-term peace in his life. If our son learned righteousness and acted it out, he would not be in fear of losing his job in the future and would be established and secure. Thankfully, he did realize he was being unrighteous, and decided it was better to adapt to the heart and behaviors of God's kingdom and be good toward others. My son treasured the lesson and God quickly supplied a new job. Our young man has kept it for nearly three years, enjoys his co-workers, and is one of the most valued employees in the establishment.
Living in step with God's righteous commands results in peace and rest. Doing things that are wrong will produce a sense of being out of step. Believers must march in time to the drum beat of the Holy Spirit and the Word of God. When followers of Jesus do what they know is right, their lives will prosper and produce wonderful results. This is the joy of a well-disciplined and fruitful life. God will establish the lives of those who treasure the Lord and His ways, as He has established His own unshakeable and everlasting kingdom.
Roots of Righteousness
Our Father uses tree imagery throughout Scripture as a picture of an oasis of hope for those who long to be steadfast, immovable, and fruitful. God articulates clearly how a person can easily become this way:
Blessed is the man who walks not in the counsel of the wicked,
nor stands in the way of sinners, nor sits in the seat of scoffers;
but his delight is in the law of the Lord, and on his law he meditates day and night.
He is like a tree planted by streams of water that yields its fruit in its season,
and its leaf does not wither. In all that he does, he prospers.
The wicked are not so, but are like chaff that the wind drives away.

— Psalm1:1–4, ESV
The tree is a picture of followers of Jesus who cling to His Word. Notice that it did not spring up from a little seed that just happened to fall near the stream. No, God Himself planted this tree "by streams of water." He chose both the tree and the place in which to plant it with the intention of establishing the tree and growing it to [WH5] [TS6] become a steadfast, enduring, and glorious tree. Streams are reflective of God, the fountain of abundant, living water. He is the source of life and enables believers to bear fruit in season and retain life so that their "leaf does not wither."
Those who do not delight in righteousness, but rather in wickedness, become like chaff; they are susceptible to every wind of temptation because they have no roots to hold them fast. They are here one moment and gone the next with the ever-changing wind.
The Lord used this image of a tree in Isaiah 61 to describe how He plants and establishes His children when they operate in righteousness. They will be called "oaks of righteousness, a planting of the Lord for the display of His splendor. (Isa. 61:3 NIV).
Righteousness has a steadying nature to it. To walk in righteousness means rejecting the fleeting temptations and benefits of doing wrong in exchange for the lasting benefits and peace of doing right. Oak trees are strong, enduring, and have long lifespans—often up to 600 years. Winds may blow them and cause them to bend a bit, and branches may break, but they are not likely uprooted. When you live in righteousness, the wind of temptation can blow, but you will remain rooted, established, and flourishing as God's oak, planted to display His splendor (Isa. 61:3). You are in this process right now! Isn't that great news?
Reflect with the Holy Spirit
You are now at the end of inspecting your heart for division. You have shifted into a season of wholeheartedness. Your whole heart will now find it far easier to believe God's incredible character and enduring love. With an undivided heart, you will be able to live out your purpose and fight every battle with joy, knowing victory is your birthright and inheritance as a child of the living God. This will be the focus of the second half of the book. Spend some time reflecting with God on how far you have come and the new stability and confidence you are developing to fulfill His purpose for your life.
Lord, show me how You think and feel about establishing me in righteousness.
What does it do to You as I become wholehearted?
Thank Him and celebrate as He rejoices over you singing.
Invited Him to show you areas where there is now more peace and single-mindedness.
Where is my faith at this point? God doesn't change by my faith in Him does. Is it getting stronger? Am I becoming more steadfast?
What new adventures would You like me to embark on now that we have so much of these things out of the way?
Lord, tell me how You feel and what You think of our new faith adventures ahead? I'm listening wholeheartedly.
This teaching devotional is part of a series based on Tyrelle Smith's book: From Double-Minded To Destiny. Each week we will publish more on how you can remove doubts, insecurities and fulfill God's plan for your life in a greater way.